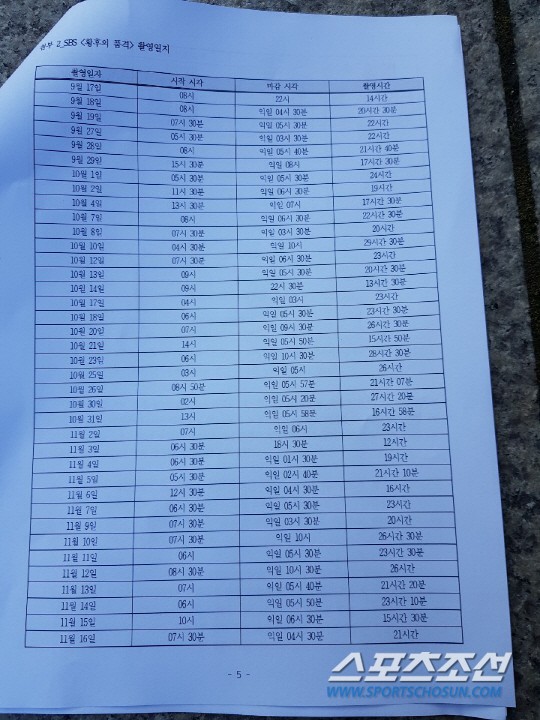 These are pictures of the staff members' work times - as you can see, they worked 16-29 hours a day
NOTE: Staff members of the drama are basically calling out the production team/producers for making them work really long hours (on one day they had to work 29 hours and 30 minutes), they're also reporting that they suffered from verbal abuse.
1. [
+904, -19
] Go Hyun Jung didn't fight for nothing

(t/n: The producer of this drama is the same producer of 'Return')
2. [
+702, -14
] Go Hyun Jung who had a big fight with the PD and then backed away came to thought.. At that time, only the actor was getting shitted on
3. [
+396, -5
] Do a lot of pre-production, for the staff members - it's better if you do that and the drama's quality gets better too
4. [
+427, -5
] ㅋㅋ As expected, there's never a quiet day for Joo Dong Min PD's project
ㅉㅈ
(t/n: He was the PD for 'Return', "
ㅉㅈ
" is like *tsk tsk*)
5. [+275, -
3
] At this rate, the PD is a bastard - do you agree? Mhmm, I agree~
6. [+154, -
1
] So Go Hyun Jung, who's known for taking care of staff, fought with the PD - the PD's side flooded Go Hyun Jung with the press - a leopard can't change its spots ㅋㅋ tsk tsk that PD really doesn't change his personality
---
Joo Dong Min PD continues to be trash